Hey friends! So, for the past 4 years I have been involved with Glendon Model United Nations. It's our own Mock United Nations club on campus that is run by myself as Vice President and the President along with a number of execs. This year, our club was very popular and our team was the biggest it had been since I joined. In fact, three of our eAmbassadors are on the team: Michelle, Sonia, and Bryan.
It's bittersweet that I'll be graduating in June and GMUN will no longer be a part of my life but I'm so glad that I joined because a lot of my memories from my undergrad have been because of GMUN.
Every year around the second last week of January, McGill University hosts their own MUN conference called McMun. This year, my partner Michelle and I were representing Malta in a General Assembly committee called the Sixth Committee (Legal). We were tasked with defining terrorism which never really happened because none of the resolutions passed BUT it did make for a great weekend.
Every Thursday when we arrive, we go to a place around the corner from the hotel called Peel Pub. We're always at least 10 people strong so finding a table usually means we're crammed into a corner but it's fun nonetheless.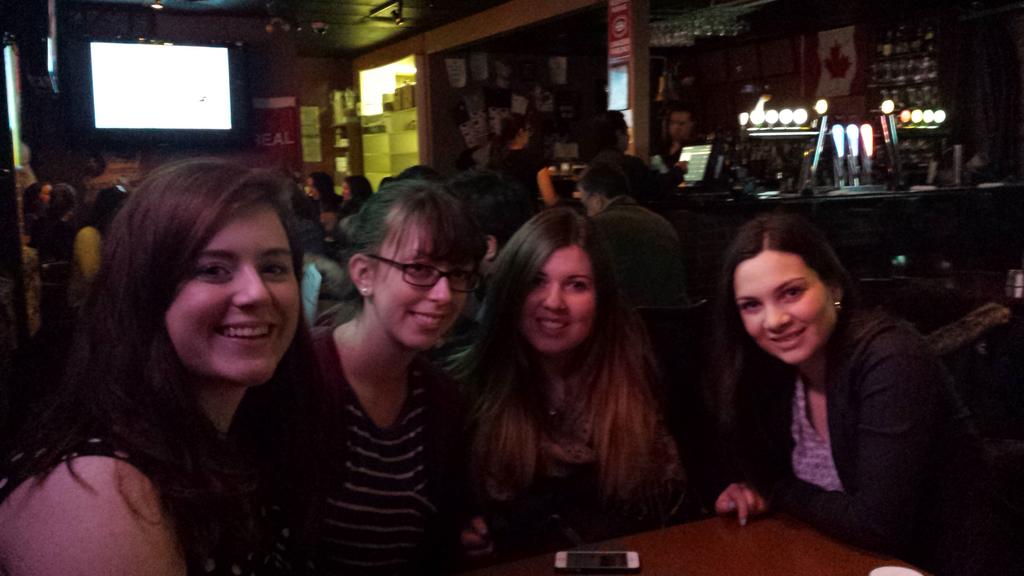 Our committees started the next morning and we were greeted with very awake, very loud delegates who were VERY excited to start debate. We had three sessions that day and took naps in between (hotel beds FTW). I can't tell you how many hours of HGTV and TLC we watched that weekend but it was comforting and I loved it.
On Saturday night after our sessions, we went to the big event called McParte (the picture is below is from McParte 2014) and I may or may not have started an anthem sing-off in the line to get the bus (Canada won, ps). I also may or may not have started yelling "GOLD MEDAL" which stems from my passion for the Olympics. I'm not even sure if the other people knew I was talking about the gold medal game…
On Sunday, we finished our final session and after closing ceremonies, we ordered some yummy lunch from St. Huberts and then got ready to take our train back to Toronto.
The weekend went by so quickly but I really enjoyed spending it with our team. McMun is certainly the turning point every year that the members of GMUN become closer and get to know each other even better. GMUN and McMun are where I met most of my best friends at Glendon!
If you're interested in Model UN and want more information about our club, you can tweet me @beckielhgl or our GMUN account @glendonmun. See you next week!